Update
A synthesis of the articles, books, and the cases you haven't been able to read, and the conferences you have been unable to attend.
We read, observe, analyse and synthesise dozens of sources, in order to detect the ten key ideas that every professional must know to be up-to-date in business.
Explained by Alfons Cornella and Antonella Broglia.
Updates are made available every six months in two formats, General and Thematic. They are carried out in all the main capitals, and in-house by important companies and national and international institutions.
Current Update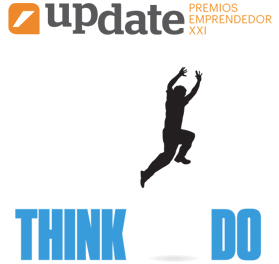 1. Resolver problemas
2. Consumo P2P
3. Tecnologías emergentes
4. El libro emblemático: ¿De dónde vienen las buenas ideas?
5. Manufactura 3.0
6. Emprendimiento social, industria creativa
7. The Next Big Thing
24 May 2013, UPDATE P. EmprendedorXXI – Castilla y León (Burgos)

30 May 2013, UPDATE P. EmprendedorXXI – Extremadura (Badajoz)

03 Jun 2013, UPDATE P. EmprendedorXXI – Andalucía (Sevilla)

06 Jun 2013, UPDATE P. EmprendedorXXI – País Vasco (Vitoria)

10 Jun 2013, UPDATE P. EmprendedorXXI – Asturias (Oviedo)

11 Jun 2013, UPDATE P. EmprendedorXXI – Castilla-La Mancha (Toledo)

12 Jun 2013, UPDATE P. EmprendedorXXI – Galicia (A Coruña)

13 Jun 2013, UPDATE P. EmprendedorXXI – Baleares (Palma)

17 Jun 2013, UPDATE P. EmprendedorXXI – Madrid
Authors
Antonella Broglia
Consultant to Infonomia
Born in Italy, with a doctorate in Law from the University of Modena, she has worked as Account Director, Customer Services and Business Development Director at the advertising agency Benton & Bowles (later called DMB&B and then D'Arcy), where she reached the position of Worldwide Client Service Director, developing projects in Italy, France, Spain, United Kingdom, Ireland, Turkey, Greece, Finland, Portugal, Morocco, Egypt, Brazil and Argentina.
She has been CEO of the advertising agency Ogilvy & Mather in Rome, and between 1999 and 2006, VP and CEO at the agency Saatchi & Saatchi España, and member of the European Board.
She now collaborates with several spanish companies, researching the impact of new technology on life, businesses and branding. She is a consultant for Infonomia, and belongs to the Ashoka Spain Leadership Team. Plus, she is the organizer of TEDxMadrid and TEDxYouth@Madrid.
Alfons Cornella
Founder and president of Infonomia
Founder and president of Infonomia, an innovation services company and source of ideas in Spanish for a network of thousands of restless minds since 2000. He has published 20 books and over 1,000 articles on topics such as science, technology and innovation as driving forces for change in companies. He is a consultant to major companies in Spain and has directed over 100 projects on culture or innovation dynamics in organisations. He personally delivers his ideas and experiences on "how the best innovate" through conferences and seminars to 15,000 people annually. In addition, he founded the "Co-society" initiative in 2009 to stimulate the systematic intersection of business between companies from different sectors.
He is author of The Present Future: 101 Force-Ideas to Understand the Coming Decades (2005), The Alchemy of Innovation (2007), in collaboration with Antonio Flores, Visionomics, 50 Ideas and Illustrations on the New Dynamic of Organizations (2010) , 25/50 Two Generations, One Same Time, the latter co-authored with Berta Segura (2011), The Solution Begins with Co- (2012), MANY, MOLTS, MUCHOS (2012), Ideas x valor = resultados (2013), Ganarse la Libertad, in collaboration with Roser Batlle (2013) and Verne, manual para innovar desde mañana mismo (2013).
Previous updates
Update in Spain and Latin-America