BY Fernando L. Mompó on 27 / 04 / 2017
As with so many other disruptive innovations, it will be difficult for the amount of innovation required by the transition to Industry 4.0 to only be generated by companies internally. This is why the number of consolidated companies that implement investment and collaboration programmes with startups is also growing in industrial areas. In our Co-Session #28 on Industry 4.0 and Smart Factories, we wanted to hear from one of these examples.
Fluidra, Europe's leading group in its niche which offers solutions for water conservation, management and treatment, has been one of the first industrial corporations to concentrate on startups and on a model of corporate venturing to ensure the level of innovation needed. Xavier Servat, head of the group's startup accelerator, Fluidra Accelera, explained the reasoning behind this way of thinking: in their case, it obeys the need to make a transition from factories that are optimised for large series to much more flexible factories that allow them to compete in the Asian market with a longer product list. Xavier defended the group's acceleration model, which opts to support no more than three or four new business projects a year so as to not water down their attention and efforts but instead have a fully hands-on approach with the startups.
Pinpointing new opportunities in future manufacturing
Later, two different presentations enlightened us on the experience of other entrepreneurship initiatives that were both set up as spin-offs of the IQS and that have found their opportunity in new manufacturing forms. One was DrSails, which manufactures special adhesives for the nautical industry. Its co-founder, Jordi Arbusà, said that starting a manufacturing startup is more complicated than other types of new companies. As well as stock management, there is also the challenge of short-run production or greater reliance on critical suppliers. In the case of DrSails, the initiative found a key success factor in being able to rely on a local industry in need of reinventing itself.
Set up just over 10 years ago, Flubetech develops, manufactures and sells hard ceramic coatings used in a range of applications from cutting tools to biomedical parts. The company, which was able to increase its sales substantially thanks to a successful internationalisation process, has introduced the innovative concept of "coating-as-a service", offering its customers custom design solutions for the ceramic coating of parts and tools. For the company's CEO, Carles Colominas, one of the critical factors of the smart factories of the future will be "smart workers", who will need to focus more on providing services than on the manufacturing itself of the products.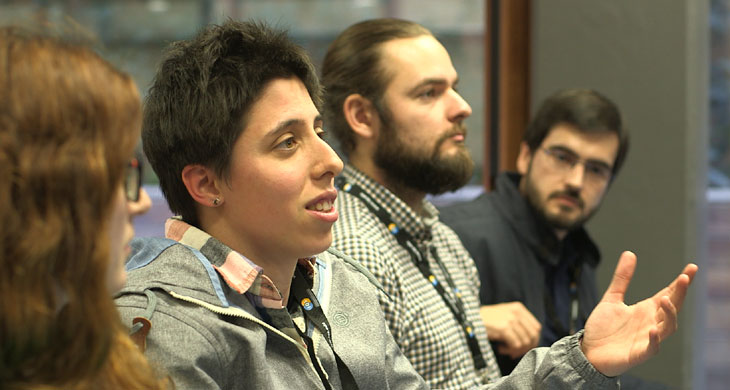 Smart Factory: What's in it for me?
Those attending this Co-Session were given the chance to have their voice heard and express their opinion through two different activities. All the participants completed a short online questionnaire which gave rapid feedback on different issues related to Industry 4.0. Among other conclusions, the results showed that the possibility of innovating with startups generates particular interest, that CEOs are the main figures behind this innovation, and that the main barrier to it comes from the type of internal culture that still prevails in most organisations and that is reticent to change.   
Later on, delegates were also divided into different groups to discuss the results of the questionnaire in greater detail and sketch out a map of opportunities and threats for the future of the industry. The speed of technological change and the difficulty in adapting to it emerged as a general concern. They reached the conclusion that to achieve this adaptation, more progress has to be made in different aspects such as the existence of more connectors to link technologies and demands, fostering the creation of innovation ecosystems with new companies and, ultimately, achieving the ideal of "industrially crafted" products that will be demanded by future markets.
Researchers & Startups Open Space
Finally, there was also time at this Co-Session to learn more about some experiences and projects from the organisations that hosted this conference: the Institut Químic de Sarrià and its IQS Tech Factory. Projects like Tractivus, a startup that has developed a customised tracheal stent in collaboration with the Hospital de Bellvitge, made using a 3D printer and capable of reducing the chance of infection by 95%. And Press & Resset, who use an innovative cold pressing and bottling system to produce and distribute fresh juices that retain their vitamins and enzymes for a much longer time than that of the traditional pressing system.
Qrem Regenerative Technology has designed a device that can obtain a regenerating serum from the blood that will allow osteoarthritis to be treated naturally. The company already has one viable product ready to be sold in the form of an easy-to-use appliance that can be used in the specialist's consulting room. Servocad works by combining micromechanics, electronics and software to improve existing medical tools. Some of its successes include an innovative clamping and locking system for screws and millimetre nuts. For their part, laboratory researchers at IQS have managed to scale a new production system for high-quality articulated graphene that is still patent-pending.