BY Fernando L. Mompó on 30 / 11 / 2014
Many times, a picture is worth a thousand words. Much more difficult is to be able to express with just an image a whole market opportunity.  If one of co-innovation appeals is to make things much easier, this includes for start communicating the idea. For a collaboration between two companies sharing their best assets to address an opportunity, the more that makes itself obvious once minimally expressed, the more chances to be successful.
This is why a simple Venn diagram made redundant the rest of the post when e-bay recently announced in their blog a partnership with Sotheby's to build an online platform that will enable users to view and acquire art, antiques and collectibles online.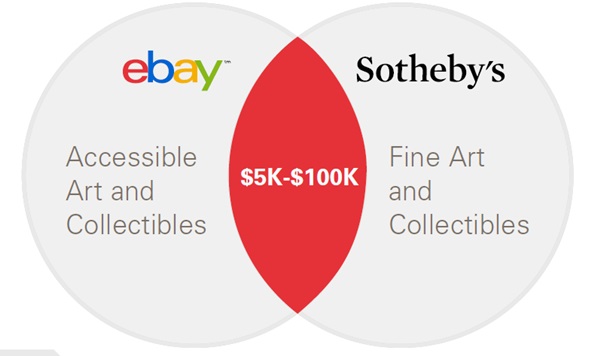 Precisely, Venn diagrams were conceived to illustrate simple set relationships in logic. The logic in this case is a global art market currently estimated around $65.000 million and an estimation that online art sales could reach $13.000 million by 2020. By coming together, the two leaders in their respective industries want to create a new opportunity from a generation of shoppers that is interested in art and is also comfortable spending larger sums online (from 5.000 to 100.000 dollars), or even through their mobile phones. In 2013 online bidders competed for 17% of the total lots offered by Sotheby's, and the total number of lots purchased online jumped 36% compared with a year earlier.
Shared strengths
Sotheby's is joining with eBay to make its sales more accessible to the broadest possible audience around the world. Sotheby's already hosts online bidding on its site, but its online strategy has been criticized internally and externally. "There is a demoralizing recognition among employees that Sotheby's is not at the cutting edge – demonstrated by the company's inability to even develop a coherent plan for an internet sales strategy, much less implement one," declared a year ago Daniel Loeb, the company's largest shareholder. There are also concerns about the company's declining performance in relation to that of its rival, Christie's, which has announced its own forays into online sales. What Sotheby's is hoping to achieve in a partnership, Christie's is trying to do on its own.
For eBay, the goal of the partnership is to create a shopping mall with Sotheby's as its anchor tenant. The company hopes that customers who might go there first to bid with Sotheby's will then explore the rest of the site. "We want eBay to be a destination, not just a utility," said Devin Wenig, president of Global EBay Marketplaces, who is also interested in gussy up eBay's garage sale image to sell more $100,000 shiny red Ferraris, designer clothes and yachts.
This collaboration isn't an entirely new development. The companies launched, and quickly canceled, a partnership in 2002 after each engaging in similarly failed attempts with other parties. Both declare the main problem was an offer ahead of time that is now ready for a much evolved customer trust in e-commerce.