BY Fernando L. Mompó on 09 / 07 / 2015
The on-going efforts demonstrated during the different workshops were rewarded by some necessary rest breaks. For a few moments the work on ideas was interrupted by other activities to recharge everybody's energy and inspiration. The activities included getting to know and chatting with other participants at Co-Fest. To avoid the tendency to talk to people we already know, we applied methodologies that would instigate spontaneous conversations based purely on causes or shared desires as apparently random as the preference for a specific cardinal point.  
As a warm-up to the prototyping stage, teams were given the challenge of designing a paper aeroplane or UFO that could stay airborne for as long as possible. We also presented Adobe's KickBox as a possible tool for carrying out this prototyping process. 
Music also had its moment at Co-Fest. A jazz group created musical moments in a session that combined artistic performance with a lesson in co-creation, individual and collective inspiration, improvisation and teamwork that could be applied to any human organisation or activity. The lesson learned: liberating ourselves from the structured management of standard procedures requires a coordinated and united team, confidence in our teammates and losing our fear of unpredictable risks.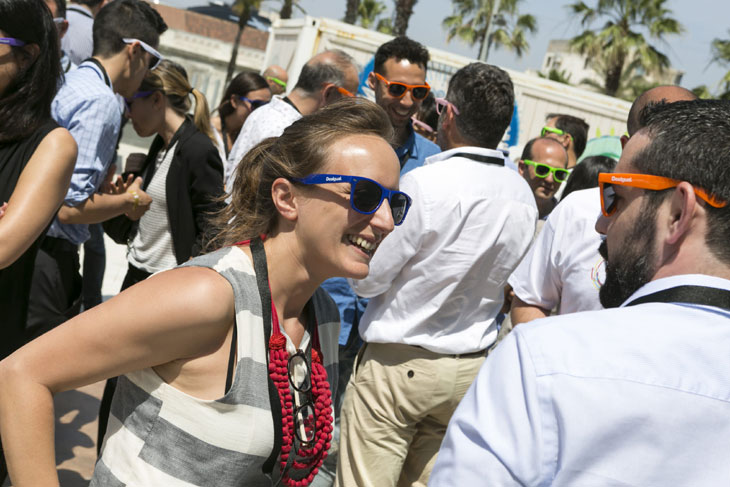 The inspiration of example: the cases of Wayra, Iberdrola and Desigual
Other stimulating moments were provided by examples of several companies that have already taken the path towards improved responsiveness to the surrounding environment. We know first-hand the energy group Iberdrola's new programme to create spin-off groups with their providers. Their project is a new focus to strengthen innovation that goes beyond collaboration in projects of I+D to share the risks of co-investing in new companies and co-exploiting the results.
Wayra explained how the increased number of start-ups is helping Telefónica to become a more reactive organisation. Wayra is a part of Open Future, an open innovation platform that integrates the initiatives and innovations of the telecommunications company with the aim of encouraging innovation and entrepreneurship globally.
Desigual focussed their presentation on the creative process of the company, which the fashion industry dictates must launch a new collection every six months. This is a process in which prototyping is key to completing the tough challenge of competing even with themselves in order to constantly produce something novel for their customers without losing the character of the brand. The company uses instruments such as the Desigual lab, where ideas are processed that totally disrupt the tempo that their collections impose on them.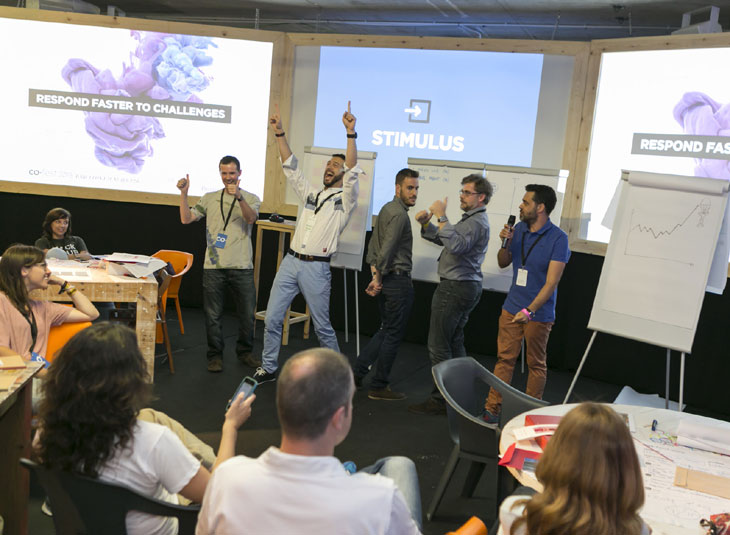 Ideas in search of backers
Not all was hard work at Co-Fest 2015. The on-going efforts demonstrated during the different workshops were rewarded by some necessary breaks with different outcomes. Networking, team building and even learning to understand responsiveness by listening live to a jazz session that was more than just music.
Finally the moment arrived for the participants to present their projects in a plenary session, turning everyone in the audience into potential backers, and two final votes for a virtual value of 5,000€ and 3,000€ revealed which initiatives were most attractive to the Co-Fest 2015 participants. A total of 23 projects meant each presentation had to be concise and effective – an elevator pitch – and which resulted in a huge range of creativity in the participants' communication of their ideas. Vignettes and sketches, mini theatre productions, music, dance, costumes and even a giant smartphone screen. Any technique was valid in the race to win the favour of the backers.
The conjunction of ideas presented showed an equally high level of creativity: from technical applications and platforms to the creation of teams working on the edge of the rules and procedures of their organisation, including initiatives that focussed on eliminating the fear of failure in corporate culture. And they demonstrated the concurrence of two key elements in creating more responsive companies: the need for bigger and better interaction with clients, and a greater importance given to prototyping and experimenting in the innovation process.