BY Fernando L. Mompó on 12 / 03 / 2015
A meeting between research scientists and business people is still an unusual occurrence. Co-Society intended to make the most of Co-Session#21 to propose a dialogue – an opportunity to work together – precisely to design a framework to promote a new relationship and understanding. A question to spark the creative discussion should be how to reinvent technology transfer and the mechanisms of conversion of science between the laboratory and the business market.
Participants in the discussion were divided into different working groups with members from both fields, and everybody put their ideas forward from a base built on the values held by the two environments – research and business – with suggestions for new relationships and channels that could be fostered. The concurrence in the opportunity to combine not only the variety of knowledge but also the field-specific abilities soon became clear: rigour and process, problem-solving, and specialist scientific knowledge amongst the scientists; and creativity, ability to detect problems and needs, and market experience amongst the business experts.
The resulting list of requirements to improve this relationship consisted of better methodology, a common vocabulary, programmes for reciprocal training between researchers and business directors, improving the search for talent from the opposite field, specialist intermediaries, and better diffusion of successful cases in order that they be used to inspire further successes. And specific action suggested to catalyse these requirements in general included proposals for co-creation projects, further open challenges from companies, programmes for temporary placements for researchers within companies, and of course, more face-to-face meetings like this Co-Society co-session.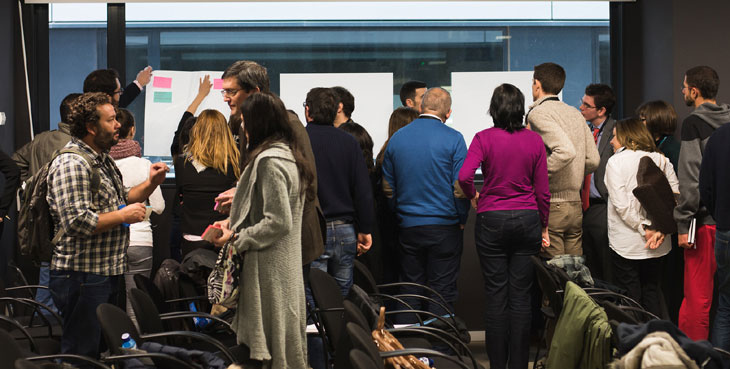 The STEAM evidence
The gap between science and business is only a duplication of the gap between science and society in general. And these gaps are difficult to close if we don't tackle them at their activation. As in so many cases, education plays a fundamental role, and the lack of enthusiasm in school children for scientific and research careers is a reason of concern for STEAM movement, which aims to encourage the interest of our youngest citizens in science, technology, engineering and mathematics – in addition to art and creativity, which are also essential. Co-Society's Mónica Alonso is part of a project that champions the exchange of experience between teachers who believe in updating an education system designed in the 19th century and embracing another based on promoting abilities that require scientific investigation: to generate knowledge by exploring and doing, to learn from trial and error, and to encourage the use of imagination and creativity to form the questions that have yet to be asked.
Art is also I+D
It is in fact creativity and imagination that we need to make the union between science and business work. There is no scientific advance without somebody to imagine the answer to an unasked question, and it is difficult to make a business sustainable without the creativity that enables it to adapt to today's constantly changing context. That's why more and more modern companies are including creative people in their management and innovation teams, and that's why we didn't want to leave out art in a conference dedicated to science as business. Lipi Hernández, dancer and I+D manager for El Graner, centre of body and movement, spoke to us about how an expert on movement confronts a creation process, which unlike scientific creation, has no need of a straight  or obvious line  to get from A to B.