BY Fernando L. Mompó on 23 / 01 / 2019
New devices normalize an immersive third dimension made from artificially generated images. In our 33rd Co-Session we learnt that images can now create worlds we can immerse in and also show us different stories of the same one.
Images to Find. BIM & Digital. Elena Pla, ITeC
Building Information Modeling (BIM) is the evolution of traditional computer-aided design (CAD) systems for architectural design and construction. BIM systems incorporate into the geometric data of each architectural element information about other aspects beyond their form. BIM systems can recognise each of these different architectural elements (for example, whether it is a footing, a wall or a pillar) and work with data about their materials, components or purposes.
BIM systems are making it possible to be ahead of possible infrastructure issues (ventilation or electrical systems, for example) that traditionally could only be detected and fixed during construction. They can also serve as a powerful budgeting tool, allowing to make more informed decisions about construction, maintenance and even environmental costs.
Images to Understand. Unlimited Reality. Carles Ballabriga, founder of VirtualAge
The incorporation of augmented reality and virtual reality into our daily lives is imminent due to the technological evolution. Some of the images that surround us literally reach a new dimension. Smartphones or AR glasses have brought forward uses and experiences with these types of images. The most advanced virtual reality devices, known as High End VR, offer a completely different experience of immersion in these new computer-generated realities.
Aside from the most popular use—videogames—virtual reality is finding new, more practical uses. For instance, with training purposes, VR allows employees to experience simulated situations before facing the real ones. VR apps such as Gravity Sketch already make it possible to design three-dimensional objects "in the air" using your own hands. Benz offers an AR handbook for some of its vehicles. Macy's has a virtual room to simulate how the furniture they sell will look in their customers' homes. And Boing mechanics use VR glasses to receive instructions in situ on how to carry out some maintenance work.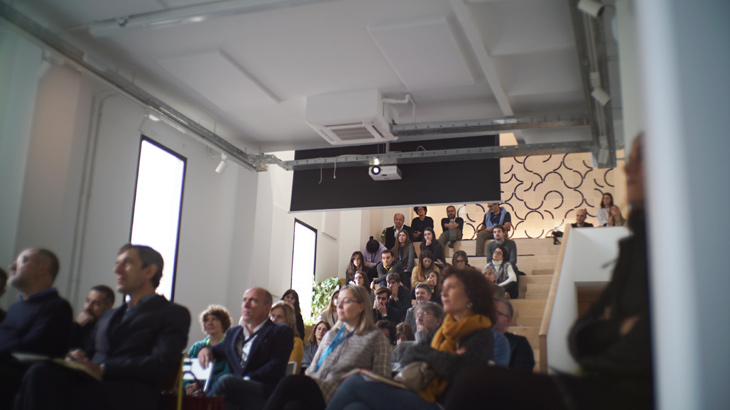 Our Conversations in Images. Dani Sala, E2S
E2S usually carries out the photographic and audiovisual recording of our Co-Sessions. This was also the case on this occasion, but with the commissioning of a special challenge: to be able to show right at the end of the event a synthesis of what our session had been like in different formats and versions.
This way, we were able to watch an Instagram story or short video with still images and the key ideas of each presentation with a voice-over by its protagonists. The same photo slideshow was shown at different speeds and with different music as soundtrack. This little experiment showed us the power of images to communicate different feelings, and also the importance of how we communicate, on top of what we communicate.